Trinity 3D - Animation, VFX, Gaming*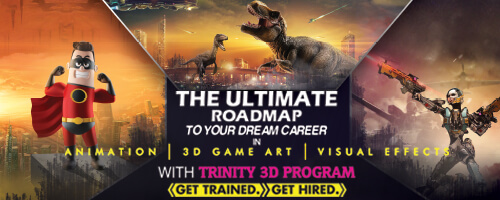 Triple your career opportunities by completing a premium 3-in-1 course*. Arena's Trinity 3D is a complete package! Get skills in three in-demand industries - animation, VFX & gaming.
An increasing number of Bollywood films, TV programs & advertisements rely on VFX & animation to add supplementary touches to their works, be it to create a mythical creature, a historical era or simply enhance the natural surroundings. By 2020, the Animation & VFX industry in India will be worth ₹11360 crores.** The Gaming industry is growing too, at a fast pace with a CAGR of 18.2%.**
Trinity 3D trains you in all aspects of animation, VFX and gaming. With three exciting industries to choose from, on competing this course, you get the competitive edge over others.
**Source: FICCI-KPMG Indian Media & Entertainment Industry Report 2016
*At select centres only